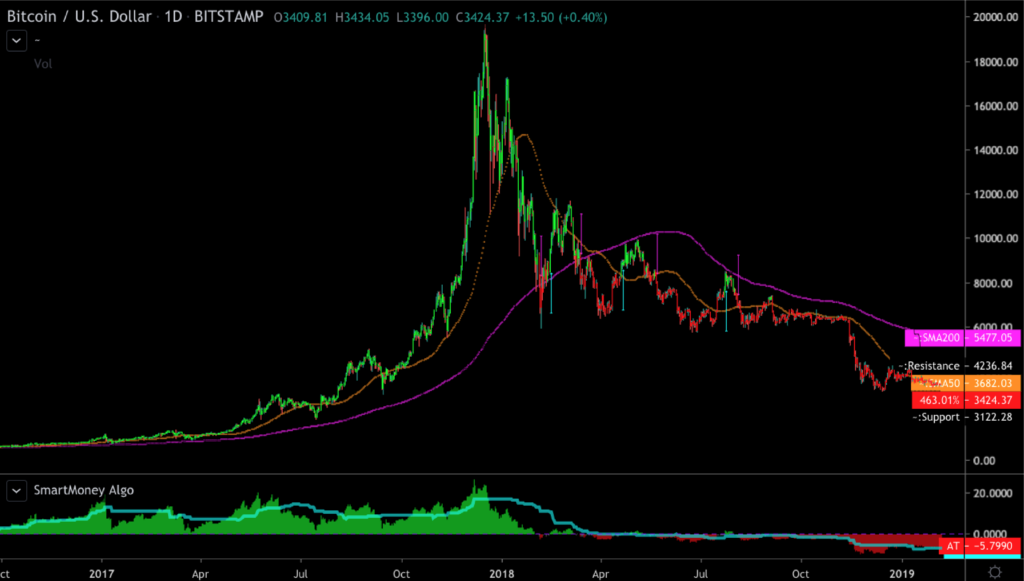 Smart Money Algo (SmartMoney) Oscillator
The Smart Money Algo has been optimized for trading success. Trading can be unforgiving and relentless if you do not follow the rules. However, if you can take the emotion out of the trade and utilize price action, volume and mathematics then you can achieve long term success. This will allow you to rely on what the chart tells you. This system is best for maximizing profits and protecting capital.
What is the SmartMoney Algo?
It is a high probability trading system that can be utilized for any market (cryptocurrency, stock trading, ETF's and mutual funds). The algo delivers buy and sell signals for virtually any financial instrument. It will generate a BUY or SELL signal for whatever time frame you trade.
Who this algo is meant for?
A trader or investor who wishes to buy a confirmed trend or to sell when the market turns so that you may protect profits. This works wonderfully for longer time frames ranging from 360min to daily charts and allows a trader to ride the trend.
Helpful links :
SmartMoney Algo – TradingView Scripts : https://www.tradingview.com/u/BitcoinSmartMoney/#published-scripts
Oscillator (Indicator) : https://www.tradingview.com/script/s9kfqDel-Smart-Money-Algo-Oscillator-SmartMoney/
Signal Trigger (Buy Sell Signals on Chart!) : https://www.tradingview.com/script/mqx5QyMm-Smart-Money-Algo-Signal-Trigger-SmartMoney
Please contact [email protected] if you are interested in a 3-day trial. The SmartMoney algo manual for the system will be delivered to your e-mail once the trial begins.